When it comes to your trade show booth design, you want to find creative ways to stand out from the crowd. This is essential for attracting attention and generating more interest in your products or services.
Here are some top trade show booth design ideas and best practices you can use and follow after picking your theme to help create an impactful and memorable experience at your next Las Vegas trade show event.
Use Engaging and Interactive Displays
To make your trade show booth stand out from the rest, use different interactive elements like touchscreens, virtual reality (VR), augmented reality (AR), or gamification to create a more immersive experience for booth visitors.
Not only does this technology draw people in, but it also keeps them engaged with your booth and there for longer.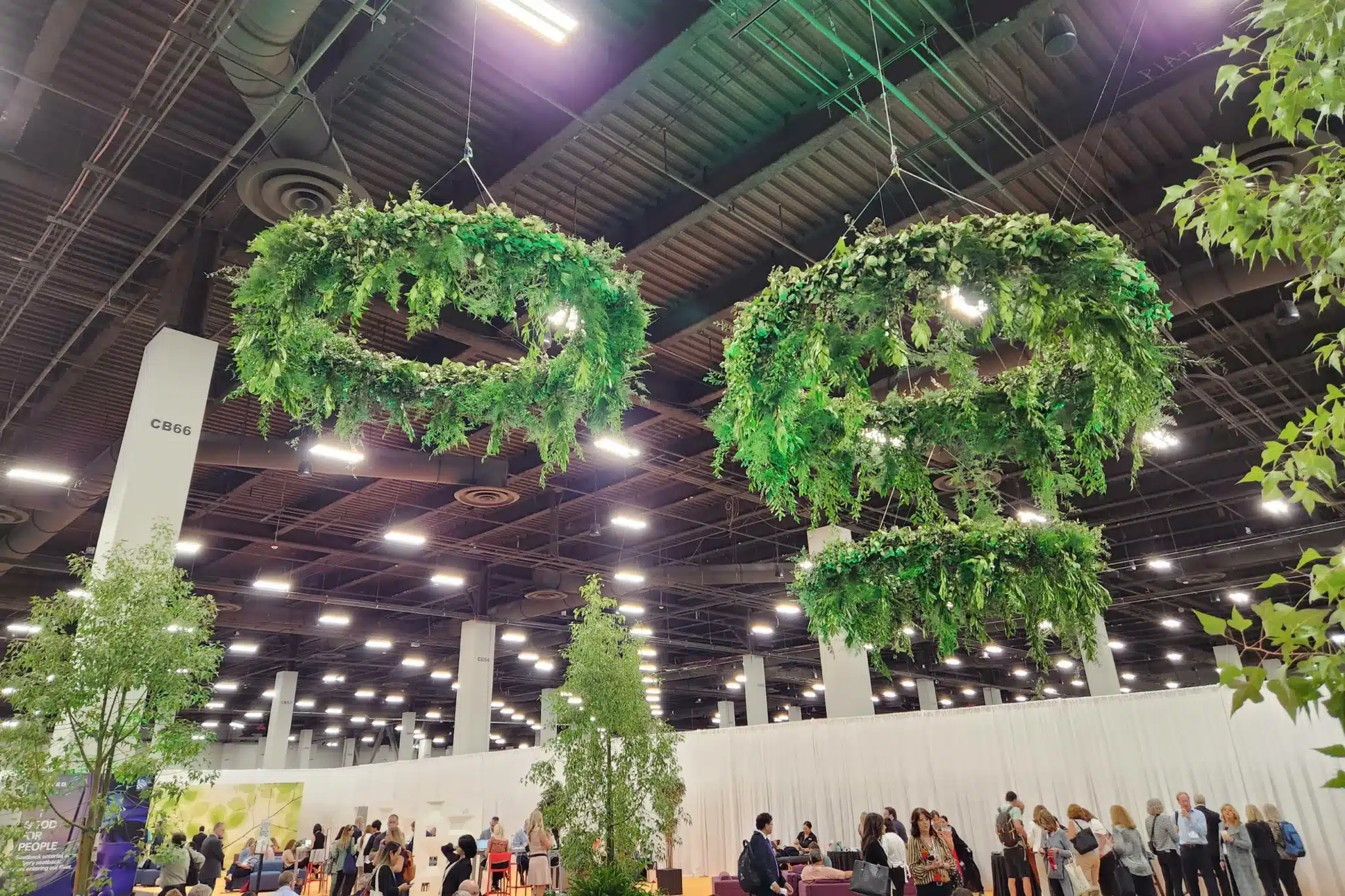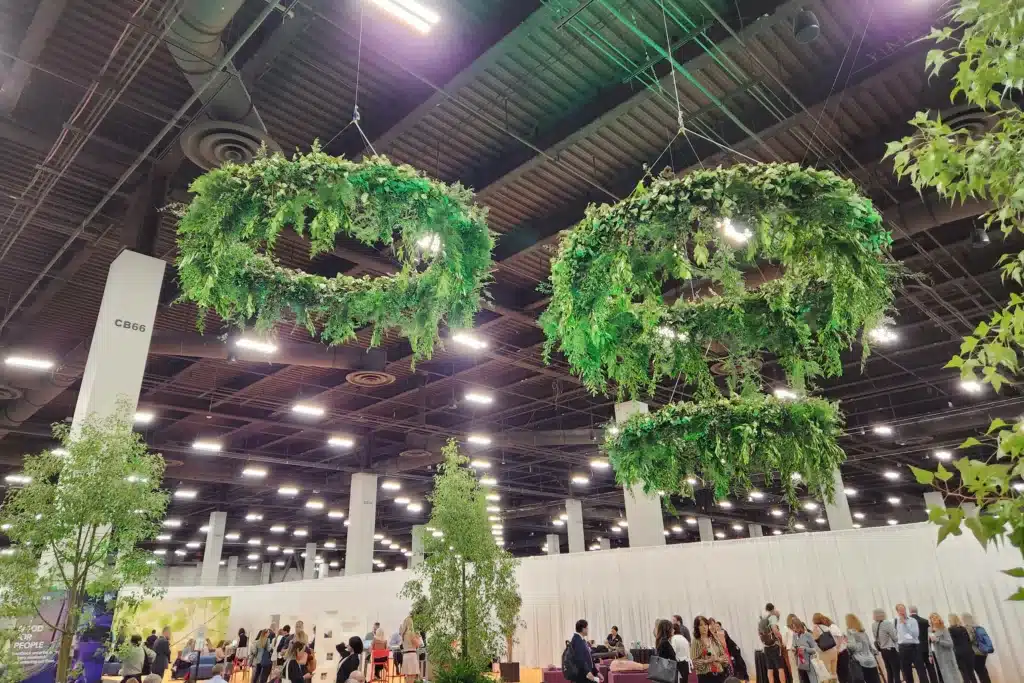 Take Advantage of Unique Shapes and Structures
Unconventional shapes and structures also go miles to attract more attention.
Curved walls, suspended structures and greenery, or asymmetrical designs, for example, keep the booth visually appealing and allow it to stand out from the other booths with a more traditional layout that is square or rectangular.
Use Bold Graphics and Branding
Consider using modern, vibrant colors, eye-catching graphics, and large-scale, engaging imagery to represent your brand and messaging when looking for stand-out signage ideas for your Las Vegas event.
Bold, high-contrast designs help the booth stand out easily and are easily visible from a distance.
Creative Lighting Effects and Tricks
Utilize creative lighting techniques to enhance your booth's ambiance and visual impact.
Try out some LED lighting, spotlights, or even color-changing lights to create a dynamic and captivating atmosphere the trade show visitors will flock to. You can also use the lighting to highlight your products or key elements of the booth.
Spotlighting highlights key elements of the booth, like a product display, signage, or other focal point. Or you can choose to use some backlighting behind graphics or signage to make these visuals pop.
Additionally, interactive lighting effects also make for a more engaging experience and are sure to draw some attention.
Create Multi-Sensory Experiences
To captivate an audience, you can also create a multi-sensory experience using flowers and other elements in your trade show booth. Use vibrant, fresh flowers in eye-catching arrangements as centerpieces or focal points in your booth.
You can create visually striking flower walls or backdrops and incorporate hanging floral installations or cascading floral arrangements to add a sense of movement and depth to the booth.
Choose flowers with pleasant and captivating scents like roses, lavender, or jasmine and use them strategically around the booth. You can also get even more creative and diffuse floral scents or use aroma machines to disperse a pleasant fragrance and create a more relaxing and inviting environment.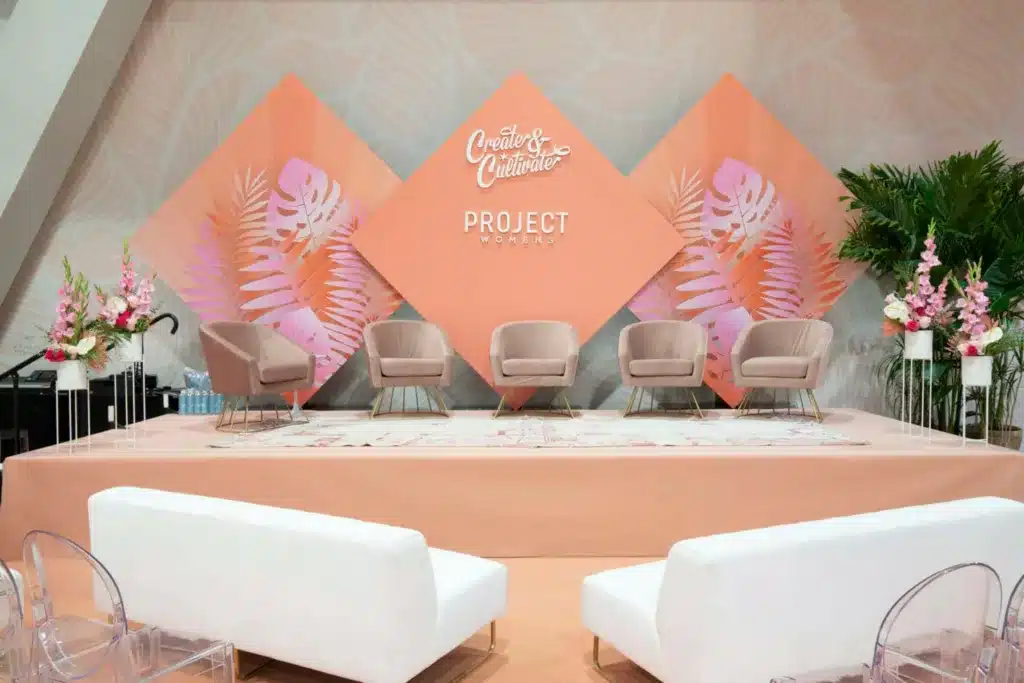 Create a Comfortable and Inviting Space
And that brings us to using plants and other décor to create a comfortable, inviting, and welcoming space people will want to visit. Start by choosing the right plants. You want some that are low maintenance and can thrive indoors.
Choose plants of varying sizes, shapes, and textures to add a good amount of visual interest to the booth. You also want plants that mesh well with the lighting you use.
Position your plants strategically to create a natural flow and draw attention to key areas of your booth. Taller plants should go at the booth's back or corners to add height and create a visually appealing backdrop.
In addition to the plants, you can use other decorative elements to add warmth and comfort and enhance your branding. Wood and wicker are materials that go well with plants. They add to the natural element and create a sense of coziness.
Don't have it in the budget to purchase your own plants? Consider renting plants from a local vendor. It is a much more cost-effective and budget-friendly option.
Tips for a More Successful Trade Show
Now that we have given you a few top booth ideas for events to stand out from the crowd, let's take a closer look at some best practices to follow. These best practices apply to all trade show booth sizes.
Never Block the Entrance
When decorating your trade show booth, be careful not to block or clutter the entrance. Keep all tables and chairs or other furniture away. Instead, encourage staff to be at the entrance to draw people inside.
You can also hire a greeter from a temporary staffing agency to free up your staff's time to focus on lead generation and sales.
Try to Match the Booth Carpet to the Exhibit Hall's Floors
When you match the booth carpet with the exhibit hall floors, you create less of a barrier, and the transition from the other booths to your booth is more seamless. It creates visual cohesion and when you seamlessly blend in, your booth can easily be 'stumbled upon' by passers by.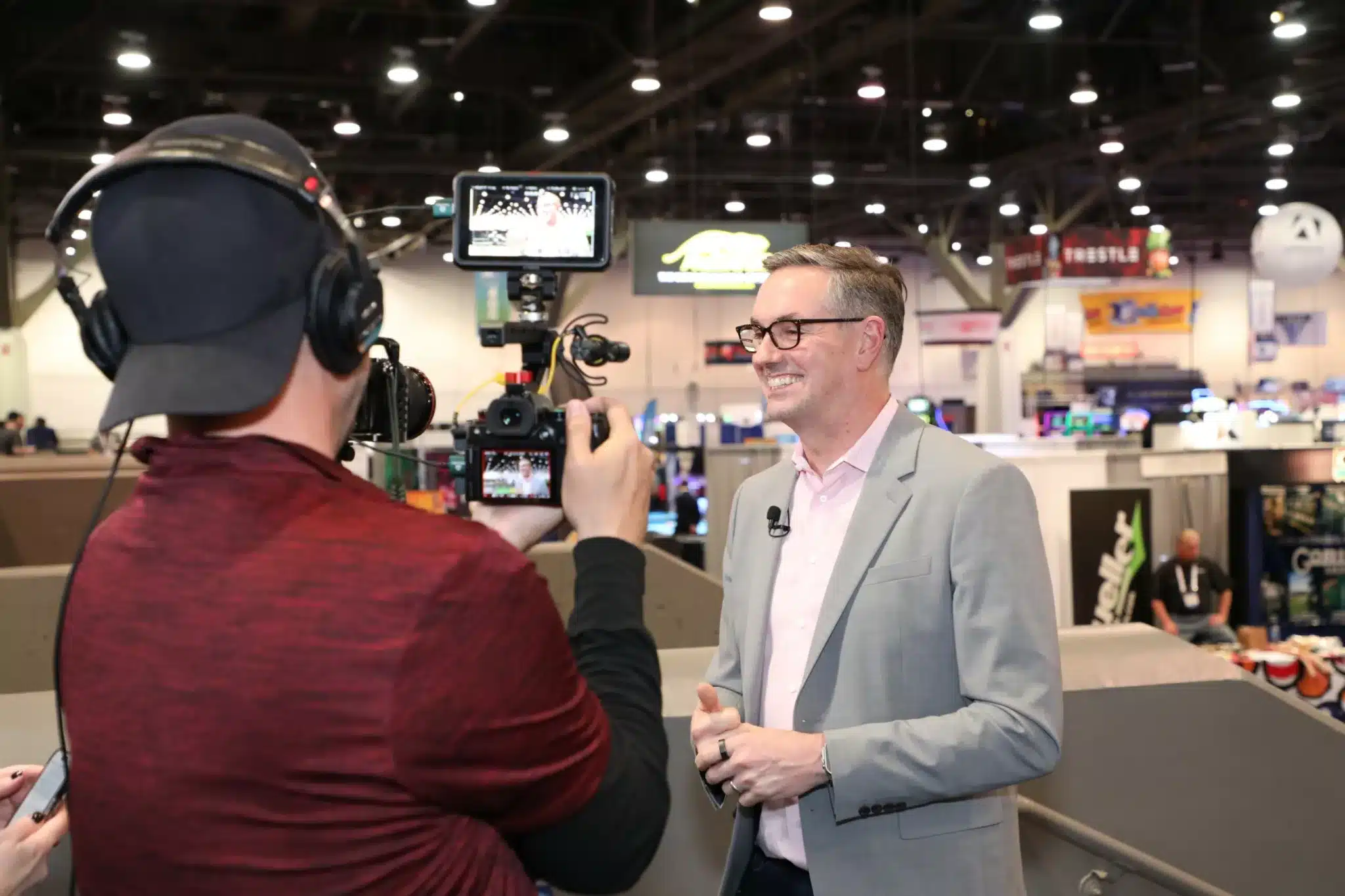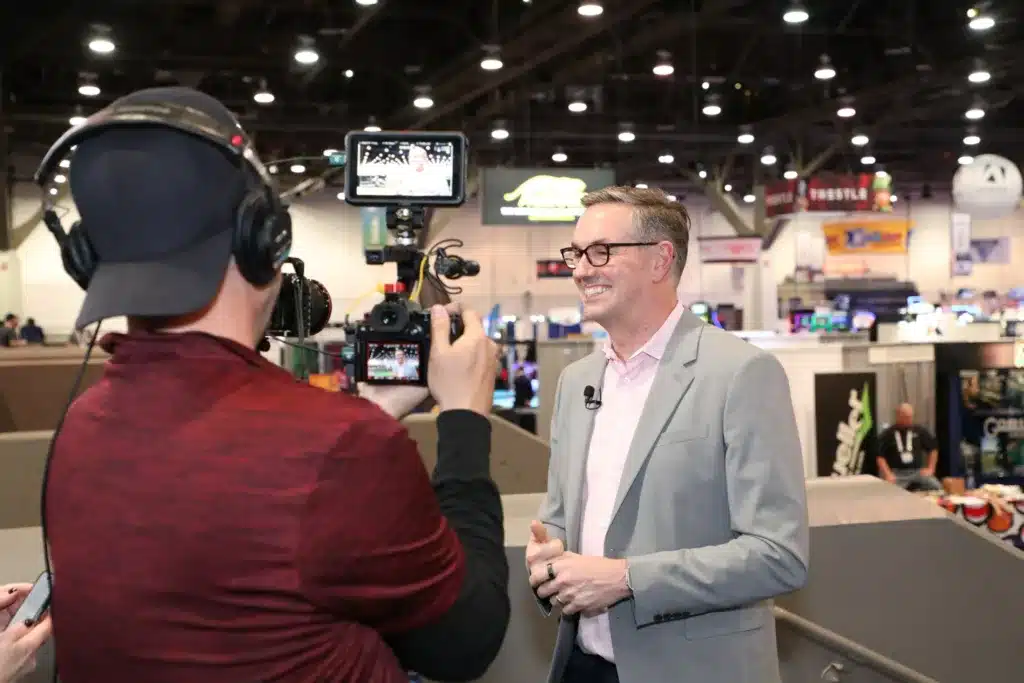 Conduct Leadership Interviews
Leadership interviews provide you with a golden opportunity to engage more with your audience and stand out from the other booths. Interviews with someone knowledgeable, or otherwise known as a thought leader, is a good way to attract an audience to inspire, influence, and educate.
Visitors will flock to your booth knowing that there is someone there to answer their questions and further educate them on what you have to offer.
Hand Out Swag
Handing out swag or promotional items can help you stand out at trade show events while leaving a lasting impression on attendees. Swag helps with brand visibility, creates memorability, and encourages engagement and interaction. Consider these eco-friendly swag ideas.
High-quality swag also creates a positive association with your brand and evokes feelings of gratitude, appreciation, and goodwill. This leads to even more brand loyalty and word-of-mouth recommendations.
Grab and Go Information
Finally, having grab and go information readily available at your trade show booth creates convenience for attendees, increases visibility, extends engagement, and provides you with additional marketing opportunities you can use to highlight key features, showcase success stories, or present customer testimonials.
Make sure all your materials are designed well and keep all the info concise so it is easily digestible.
---
If you follow these tips and best practices, you will surely have a memorable trade show event. Ready to start designing your booth? Contact Expo Ease to discuss all your plant rental and event floral needs and help you create an interactive and engaging exhibit Las Vegas is sure to talk about.