You've committed to exhibiting at a Las Vegas conference, and so every minute between now and the show opening counts. From booth concept, design, and implementation to the logistics of your Vegas trip, you have a lot of big things to think about and organize. But there are also lots of little details you need to deal with.
Little details that are often forgotten.
Luckily, you've discovered our big guide of little tips for surviving Las Vegas conferences. Here you'll find reminders about these 'finer detail' tasks you need to address both before and during the conference. Some may seem obvious once you've read them. But in the hubbub of organizing the big-picture stuff these usually end up being last-minute must-dos.
We've even added some local knowledge to help you make the most of your time in Sin City. 
Before the conference
Plans and reservations
Vegas is busy. There's usually more than one trade show taking place at any given time, which means lots of exhibitors and vendors as well as the constant stream of pleasure tourists. Making reservations for popular shows and dining choices is advisable, especially if you plan on bringing a client. The last thing you want is the disappointment and embarrassment of not getting in somewhere.
Remember to RSVP
Speaking of plans, check the pre-show material. Chris Myer, vice-president of sales for the Las Vegas Convention and Visitors Authority, makes an excellent point in an Inc. magazine interview: "Reading the materials ahead of time also provides opportunities to attend unique networking events that usually require reserving a spot well in advance. Maybe Bill Gates is at a cocktail reception, but you didn't RSVP in time and you can't go." The lesson? Don't wait until a few days before the show to seek out the unique opportunities you're offered as a show exhibitor.
Arrange staffing
You can't be at your booth for the entire Las Vegas conference. You'll need lunch and restroom breaks, time for snooping out the competition, and space to watch (or take part in) talks and panels. Identify staffing gaps by making a rough schedule for each day of the conference. You can then decide to bring members of your team or hire an assistant for a few hours each day.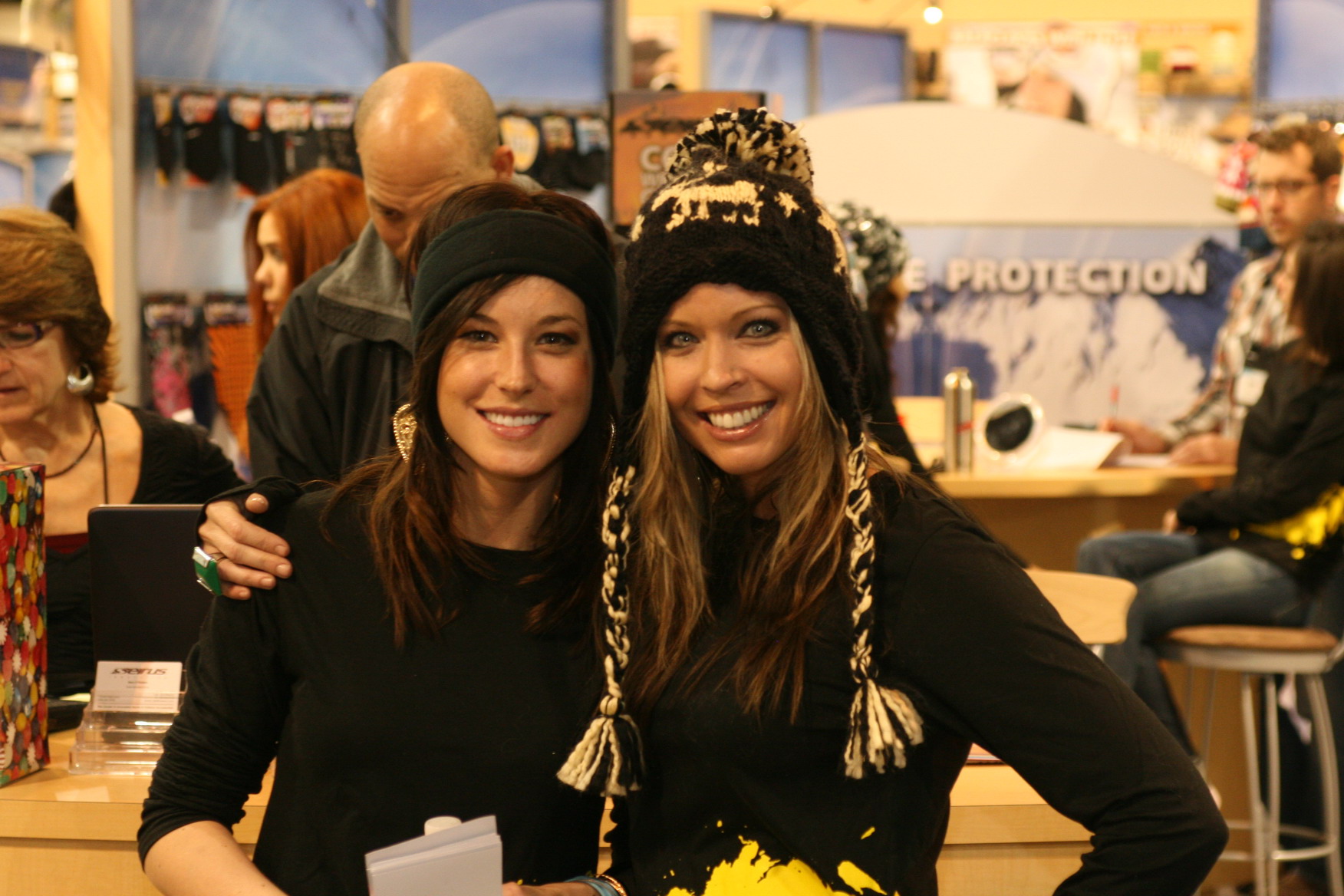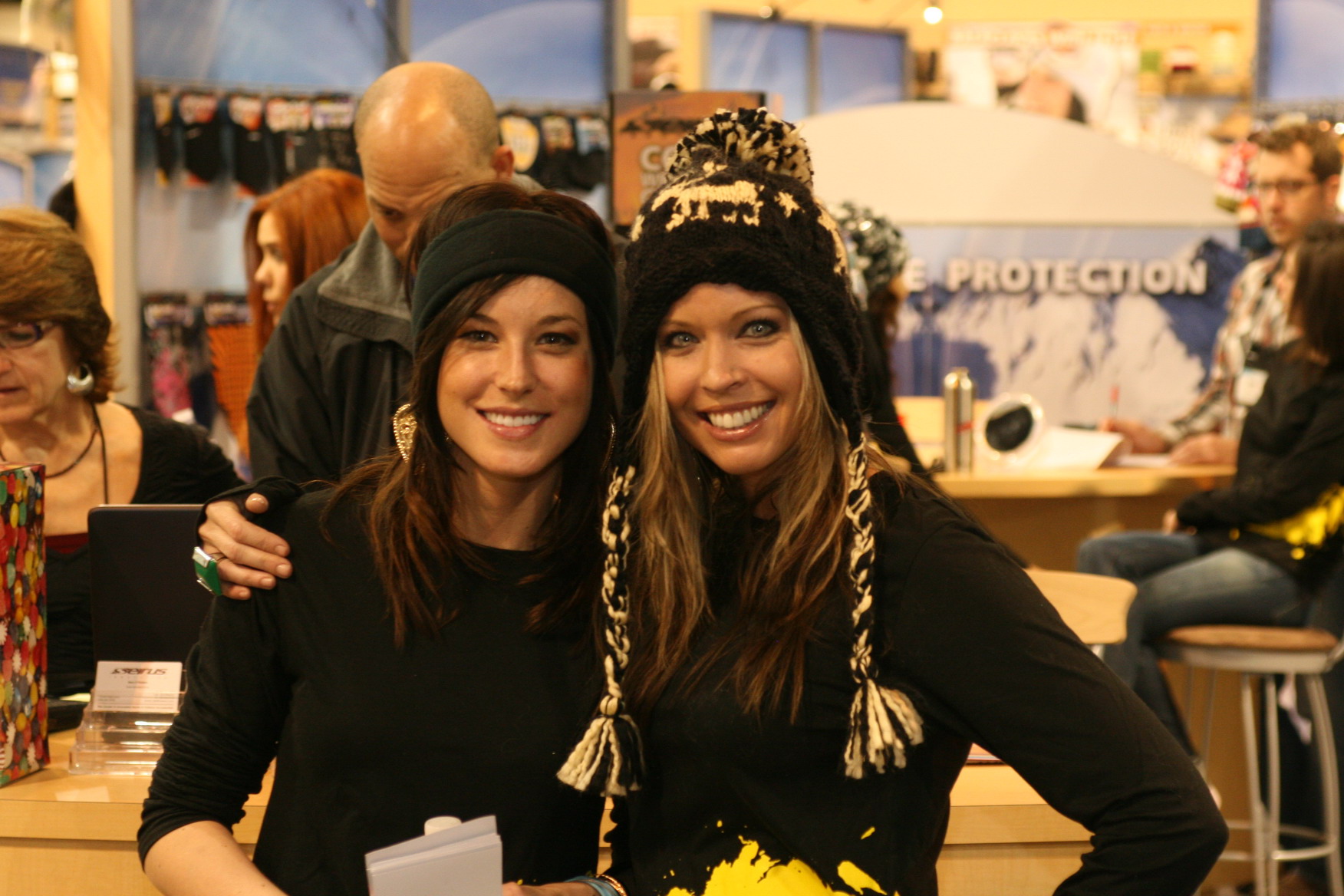 Book transport
Unless you're working with an exhibition design company, it's up to you to get everything you need for your booth (including stock) to the conference center. Make a list of items you need at the show, and then book a van, truck, or your co-worker's big car so moving day isn't a nightmare.
Build the hype
In an interview with Exhibitor magazine, author of the Tradeshow Guy blog Tim Paterson said, "If you want a solid pre-show marketing plan, you have to think about it several months in advance, particularly when it comes to larger trade shows." He's right. Leaving your marketing plan until a week before the show (or worse, at the show) means missed opportunities.
Maximizing your trade show experience means announcing you'll be there and telling visitors (who may be fans and potential customers) where to find you. Broadcast it on your social channels, send out direct mail or emails, and get your sales team to slip it into their conversations with clients and vendors. Building hype before the show will have more of the right people coming to you, rather than being dragged to your booth during the show.
Organize a bag of admin essentials
It's worth having a backpack or bag you can grab that contains:
pens
paper/notebook (for scribbling down notes and contact details)
stapler
calculator (to add up sales because your phone died)
a phone charger.
Having these items handy will help you keep everything running smoothly without needing to leave your booth to ask a neighbor for something.
Create a health kit
Exhibiting takes a huge toll on your mental and physical health. Your days are long, your sleeping patterns are irregular, and thanks to the crowds your chances of getting a cold or the flu are much higher.
Keep your health in check by:
stocking up on vitamins or effervescent vitamin drinks
packing hand sanitizer and tissues to catch coughs and sneezes
chucking in some Band-Aids if you're likely to get blisters
bringing sanitizing wipes to keep high-touch surfaces germ-free.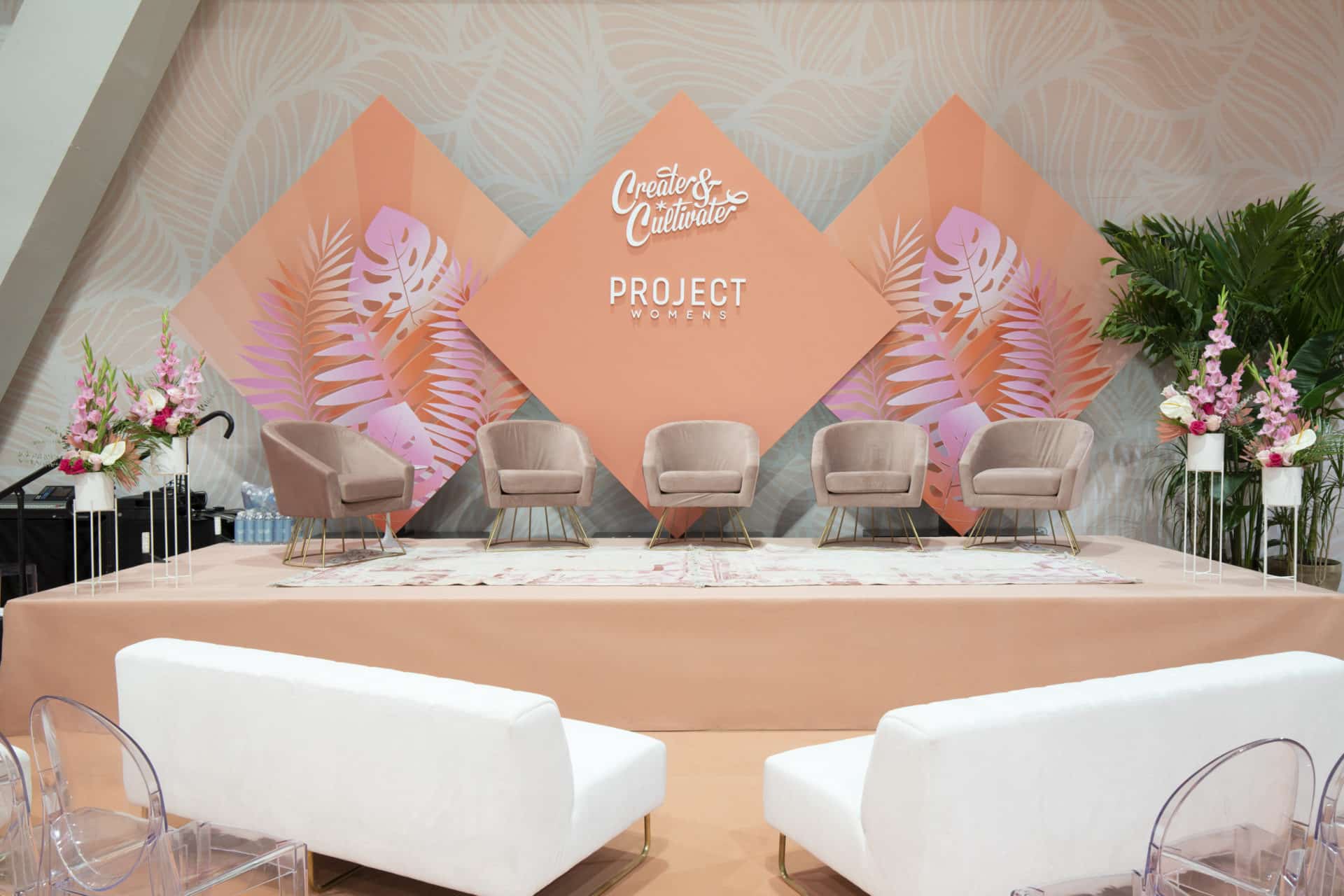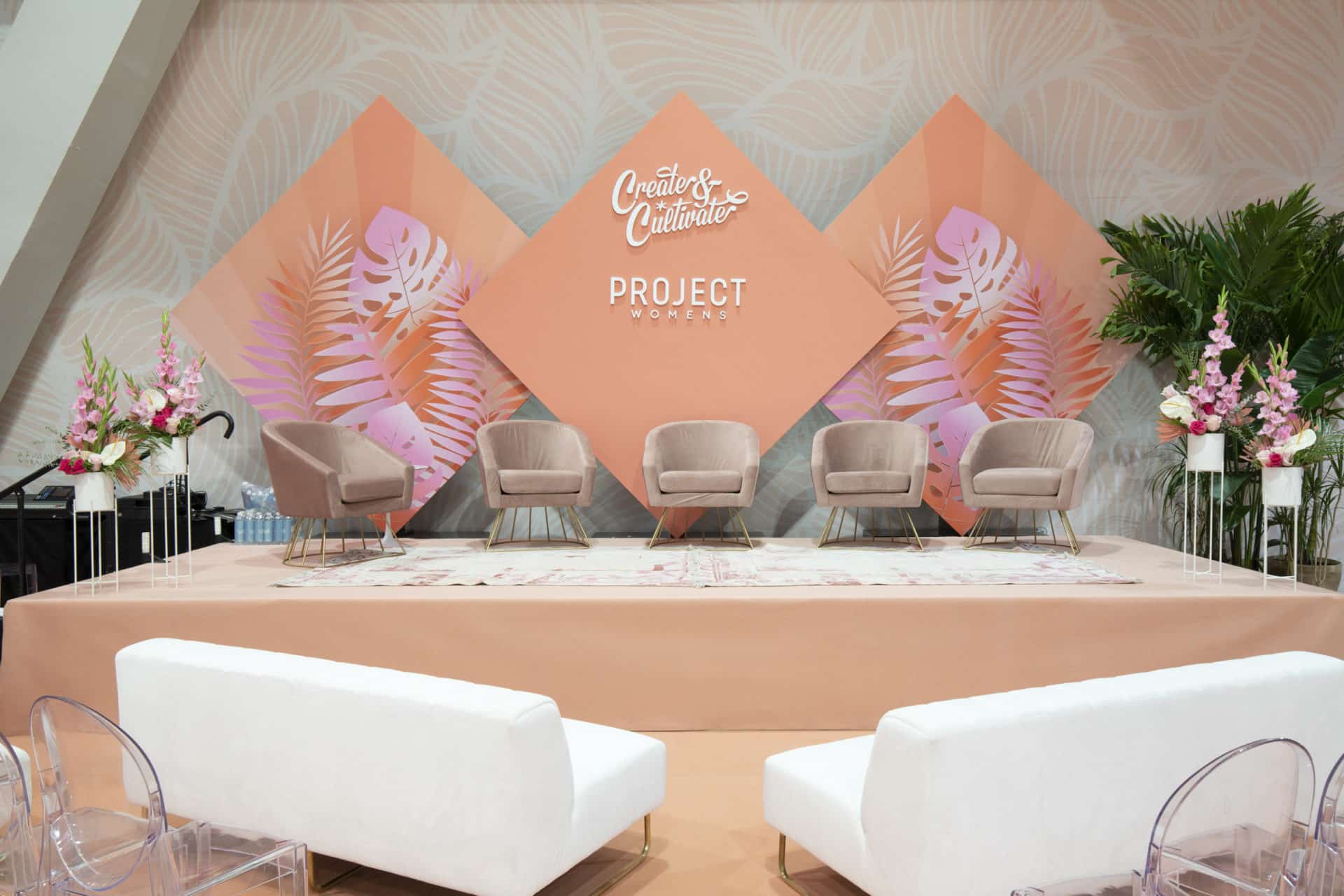 5 tips for during the conference
You've prepped as much as you can, and now it's time for the main event. Here's how to get through your Las Vegas conference relatively unscathed.
1. Drink plenty of water
The Vegas dry desert air and conference center air conditioning both contribute to dehydration. Add into the mix the countless hours spent running around and talking to people, and it's easy for your water levels to drop. Bring a large bottle of water and sip regularly, making use of free water points and drinking fountains.
2. Bring snacks
There may be a long gap between meals. Avoid the grumbling stomach and drop in energy levels by packing snacks to get you through to the next meal break. Slow-release, high-energy snack foods such as nuts, bananas, rice, dark chocolate, and yogurt are easy to throw in a bag and keep close by.
3. Layer your clothing
When it comes to dressing, a Las Vegas conference is a tale of two wardrobes. Being in the desert means it's hot outside (temperatures can reach 100°F in summer) and cool in the exhibition centers. Deal with the chopping and changing temperatures by packing clothing you can layer.
4. Double check your day
Hopefully, you'll have already read the pre-show material and have a rough plan of your daily schedule. But there can be last-minute speaker changes because someone's dropped out, or even changes to running orders because someone else's meeting schedule has changed. Revisit and double check your plans each day, and adjust as needed.
5. Booking last-minute meetings
Shows are major networking events. So when you need to squeeze in an eleventh-hour meeting with a vendor or client, make them breakfast or lunch meetings so you can maximize your time without sacrificing your fuel break.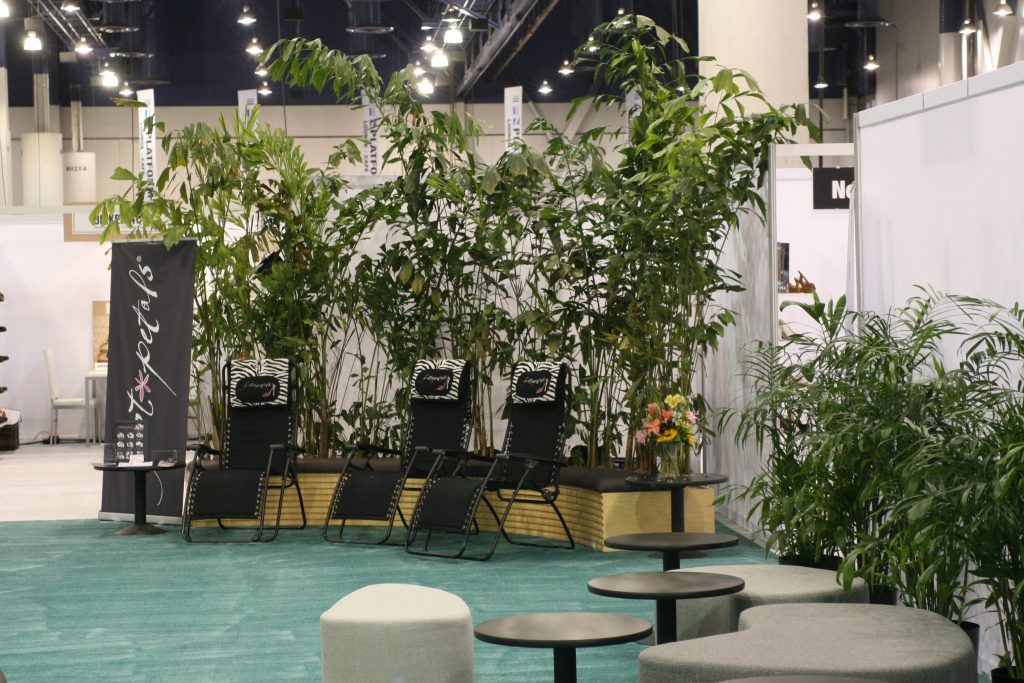 Making the most of Vegas
Need some downtime away from your Las Vegas conference and the crowds?
Retreat and indulge in a little tourism with our tips for doing Vegas like a local.
Surround yourself with nature
Head out of the city and into the desert to reenergize among nature. The Jurassic sandstone Red Rock Canyon is a 30-minute drive away and filled with hiking trails, mountain biking tracks, and beautiful picnic areas.
If you're happy to go a little further you'll discover Valley of Fire, which is known for its amazing natural rock formations.
Stroll the Springs Preserve
If you're short on time and wanting to escape the man-made city, take a gentle stroll around the Springs Preserve. This beautiful botanical garden is a Vegas city oasis with desert landscapes, a butterfly habitat, and exhibitions on local sustainability and waterworks.
Explore our unique museums
Take a trip back in time and visit the interactive Mob Museum, the only museum dedicated to telling the true stories of America's mobsters, gangsters, and Made Men.
For some more local history, check out the Neon Museum. A graveyard for all the ritzy neon Vegas signs that have been retired, this is a museum unlike any other.
Check out Downtown and the Arts District
If you're out exploring the city, make sure you head to Downtown Vegas, home to Fremont Street, the Container Park shopping mall (which is great for locally made gifts), and the Golden Gate Hotel & Casino, which opened back in 1906.
If Downtown is still too busy, wander to the Arts District close to Main Street and Colorado Avenue. Here you'll find small boutiques and galleries selling the wares of local artists and makers.
Check out 18b.org for more details.
Helping you survive a Las Vegas conference
There's plenty to consider and remember in the run up to a Las Vegas show, not to mention the demands on your time during the conference itself.
Use these little tips to get a head start on your big conference plans. And remember, you don't have to do everything by yourself.
Lean on us at Expo Ease and use our 30 years of trade show experience to ensure a smoother Las Vegas conference experience for you and your staff.